Lawn Care Programs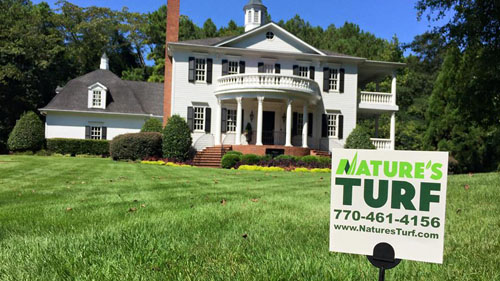 To maintain a green and beautiful lawn, our certified lawn professionals customize a treatment plan for your property that exceeds expectations. Our initial step is to identify your yard's turf type and square footage in order to determine price and strategy.
All of our lawn care programs include weed control and fertilization treatments to ensure your yard always looks healthy and trim.
Lawn care is about timing, and our many years of experience allows us to identify the best times to apply the proper products. At Nature's Turf, we believe that applying effective and proven products during the correct season will give your lawn the best results. It's that simple and has been key to our success over the years.
Fertilization aids appearance but also works well with weed control, since thick, healthy lawns prevent weed seeds from germinating. That said, fertilization is just the beginning. The best weed prevention products on the market called pre-emergents, which we apply at the best time so that you never see a weed. Together, our pre-emergent and fertilization treatments will give you the lawn of your dreams.
Along with fertilization and weed control treatments, we believe in improving the soil, which is why we also incorporate rich soil amendments. In many circumstances, rich soil on the surface of the ground is removed during home construction, so these applications are critical in improving the existing soil.
Additionally, our team will inspect your lawn for insects and disease on every visit to help guide you achieve the best results with your yard. Our lawn care specialist will explain our current strategy and what kind of results to expect. Whether you're transitioning from another service or trying to turn around a neglected lawn, contact Nature's Turf for more information on how our team can help you.